Why Choose Us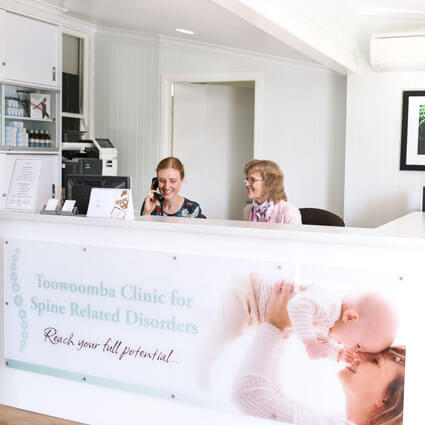 At Toowoomba Clinic For Spine Related Disorders, we closely measure many factors to make sure that our patients are getting results. Over our past 183 new patients (to NOV 2016), we have measured the following;
Spinal causative factors/ risks for chronic disease (poor posture, lack of exercise and stretching, poor nutrition, emotional stress, drugs/ alcohol/ tobacco use) reduced 35.4% with our education programmes.
Patients quality of life (pain, stiffness, and difficulty with working, playing sport, driving a car, lifting, social interaction and daily living) improved on average 24.1%
Spinal region (neck, low back etc.) dysfunction (pain and decreased movement) improved on average 67.5%.
Spine segmental dysfunction (etc C1, L4) improved on average 64%
Spine related function (ability to squat fully, spinal range of motion, shoulder function, core strength, grip strength, and balance) improved on average 46%.
We listen and we care
We take a deep interest in your health, we will listen to your goals, and we will provide the best advice and care we can. Our patients often comment that they have never had such a thorough history and examination.
We pride ourselves on being able to listen to your health issues and goals.
We promise to thoroughly examine you from head to toe so that we can get to the root of your health concern.
We understand that some of our findings may be new to you, so we will provide you with a report to take home and read at your leisure so that you can thoroughly understand our findings and make an informed choice on your health care.
Our smiling and happy front desk staff will do all that they can to make your visit as comfortable and enjoyable as possible.
To schedule an appointment, contact our Toowoomba clinic today.
CONTACT US

Why Choose Toowoomba Clinic For Spine Related Disorders | (07) 4659 9930